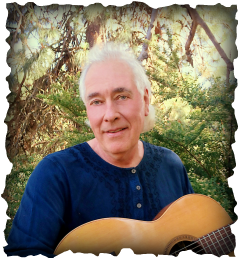 "Yogitar"

A "String Yogi" or musician using a stringed
instrument as a vehicle for Yoga.
Yogi is a term for one who practices yoga.
The word Yoga , from the Sanskrit root yuj "to
yoke", is translated as "union" or "integration",
and may be understood as union with the Divine,
or as "exertion, endeavor, concentration" in the
sense of meditation.
The word "Tar" means "string" in Persian and
also in Hindi.
This is claimed to be the root of the names of the
Persian Setar, the Guitar, and the Indian Sitar.
---
New Releases - Nov 4, 2016 Sept. 23, 2014 Sept. 30, 2014

Savasana Yoga Music: Healing Guitar for Massage, Sleep & Yoga Nidra



Released Nov 4, 2016.



With this, his eighth solo album,

Stevin McNamara

continues his musical journey, inspired by the classical music of North India and the ancient sound traditions of the Vedic yogis.

The full program of twenty musical pieces is over two hours long and is selected from Stevin's favorite compositions from the last 15 years, along with several unreleased compositions, presented in a new and unique form, and accompanied by beautiful, healing beds of sound created by renowned sound healer and master drummer

Christo Pellani.

---

---

Trip Tracks: Ecstasy
released Sept 30 2014

Hot on the heels of

Music for the Journey

comes

Ecstasy

—the next in our

Trip Tracks

series for the ever-evolving yoga and dance festival culture.For moving, self-expression, or just chilling with friends,

Trip Tracks: Ecstasy

features immersive transglobal electro-groove goodness from top artists and DJs. It's a moonlit, beat-driven odyssey of sonic exploration, created to spark the fire for inward or outward adventure.

Featuring: Adham Shaikh, Kaya Project, Euphoria, Donna De Lory, EarthRise SoundSystem, Turiya Nada, Afro Celt Sound System, DJ Drez, Stevin McNamara, and Liquid Stranger.

---