Stevin has released Eight solo albums to date - all are available on CD or download
click on the cover images to listen, for more info and to buy - see below also for various compilations that include tracks by Stevin
New Release on White Swan Records - November 4, 2016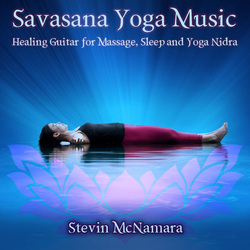 With this, his eighth solo album,
Savasana Yoga Music: Healing Guitar for Massage, Sleep & Yoga Nidra,
Stevin McNamara
continues his musical journey, inspired by the classical music of North India and the ancient sound traditions of the Vedic yogis.
The full program of twenty musical pieces is over two hours long and is selected from Stevin's favorite compositions from the last 15 years, along with several unreleased compositions, presented in a new and unique form, and accompanied by beautiful, healing beds of sound created by renowned sound healer and master drummer
Christo Pellani.
This organic music takes us into peaceful and relaxing spaces - a musical bridge into the dream state andbeyond, leaving us with the feeling of rest in nature and connecting us to a higher state of awareness. The combination of all-natural, acoustic and non-computerized sound creates a fresh and deep musical landscape for relaxation, savasana, yoga nidra, meditation, contemplation, restful sleep and more.
Most pieces are based on traditional Indian ragas ("that which colors the mind") in the Alap style -- where melody is explored without rhythm, although some have a natural rhythm — but they are performed in a way thatis easily accessed by the western ear.
The powerful melodic passages create a focus for the attention, soothing and relaxing for body and mind,centering the emotions. The melodic structures in each raga have been passed down through the ages and are intended, when played correctly, to manifest or invoke specific emotional states and feelings such as love,devotion, longing, peace, joy, separation, et al.
These raga-based melodies on guitar, sitar and dilruba are accompanied by various drones and such healing instruments as Tibetan bowls, bells and gongs, tubes and real nature sounds — which have been shown by their pure tonal attributes and primordial nature to induce the listener into higher brainwave states, e.g., alpha and theta. This unique combination of acoustic musical instruments and healing pure tones are what form the basis of this album.
All being said, no matter what musical background the listener comes from, this universal and accessible music should make one feel relaxed and refreshed — just by listening and immersion, even if not used for any particular formal practice or purpose.
---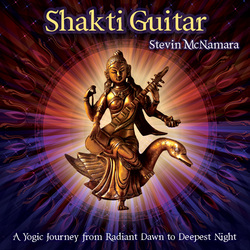 Stevin McNamara's third recording with White Swan Records features the sublime raga-style guitar artistry you've come to expect from this gifted musician, as well as well-crafted contributions from featured guests Christo Pellani (percussion), Sheela Bringi(vocals), Steve Gorn (bansuri),Mala Ganguly (vocals),
David Trasoff (sarod), Ben Leinbach(bass) and many others.

Indian music has its roots in the ancient Vedic culture where it was originally used for religious and devotional purposes. Over the centuries it has developed into what we hear today. It is a living music that has been personally handed down from teacher to disciple over centuries – and cannot be learned in any other way.

As the years have gone by, all this music has grown into Stevin's personal style that encompasses all these influences and is now presented on the nylon string guitar. The concept of Shakti Guitar is to present a musical cycle of a complete day. We start at the first glimmer of dawn and move through the day and evening, ending in the deepest night where we go into our dreams.
---
Previous Releases on White Swan Records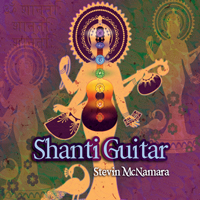 Most of the pieces on Shanti Guitar are based on the concept of Raga, a traditional form of Indian music that has been in existence for centuries. It's important to note that these pieces are not traditional North Indian Classical music. Rather, they were borne from a personal musical style developed over many years - a style that is heavily influenced by this music.
The word Raga itself means "that which colors the mind." It is not only a scale or some fixed sequence of notes; it is considered a living musical entity (like a God or Goddess). The ancient Vedic yogis discovered that ragas have certain harmonious or antagonistic effects depending on when they are played. When correctly performed -- at the appropriate time of day or season of the year -- a spiritual connection between Raga and musician occurs, thus creating a "sound manifestation" between artist and audience. It is an experience that is literally out of this world.
***
"Music is much more than notes produced on an instrument. Every note should live and breathe with a connection to the Soul. Drawing from the infinite tradition of raga, as well as that of blues and those South African sounds of my youth, I have found a way to express my experience in a way that I hope will leave you feeling soothed, healed, uplifted and at peace with one's self and the world. Because that's the feeling I get from playing it."

---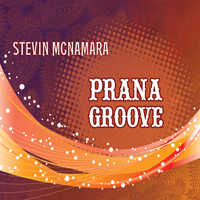 Internationally-acclaimed for his Western interpretations of northern India's classical music, Stevin McNamara offers you this entrancing journey. His signature acoustic stylings flow freely on a current of meditative percussion. A great addition to your yoga or bodywork playlist!

Prana Groove is a 60-minute piece of music divided into 3 movements:

1 Dance of the Midnight Moon
2 Dream Sequence
3 Jhala (or climax)

Prana = the Sanskrit word for basic primal vital energy which sustains and energizes the body. It moves through the breath.
Groove = rhythmic patterns which motivate the body to move.

The melodic element of Prana Groove is based on Rag Malkauns -- a profound raga which is to be played late at night (usually midnight) -- based on a pentatonic (5 note) scale. The large intervals between the notes create an intense emotional effect on the listener.

The tempo is 108 beats per minute, chosen for it's sacred Sanskrit value and effect. There are 108 different yet interwoven musical phrases presented throughout the piece.

"I created this music as an adventure into the realm of energy and movement," Stevin explains. "I used the ancient musical form of raga coupled with pulse and drum patterns found in trance and other traditions, such as Sufi Dervish ecstatic dance. I offer it as a celebration of life, of our connection to the earth and all living beings."

Prana Groove (CD only ) is also available for purchase through this website for 9.99 plus shipping
and can be purchased securely by clicking on the Paypal "Add to Cart" button below :
Your CD will be personally signed to you by Stevin
---
Prior Releases on Sounds True Label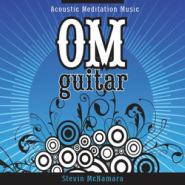 Combine guitar virtuosity with a deep sense of the sacred and what do you get? Om Guitar, a seamless fabric of Eastern and Western meditative sensibilities to soothe and rejuvenate all who listen. Composed and performed by acclaimed world music artist Stevin McNamara the creator of Caroline Myss Meditation Music Om Guitar features guest musicians Nic Dacelo and Aram Ram. With acoustic guitar, sitar, tamboura, and gentle percussion to create a blissful bed of sound for contemplation and restoration.

Om Guitar (CD only ) is also available for purchase through this website for 9.99 plus shipping and can be purchased securely by clicking on the Paypal "Add to Cart" button below : Your CD will be personally signed to you by Stevin
---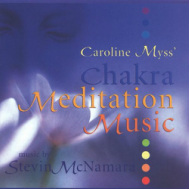 Each of the body's seven chakras—or "energetic databases"—responds to specific vibrational frequencies. These sounds, teaches Caroline Myss, can be used to help us assess and cultivate our energetic health. Now, with Caroline Myss' Chakra Meditation Music—the first music CD authorized by Myss herself—you can experience the same meditations that she uses in her own daily practice.

Composed and performed by acclaimed world music artist Stevin McNamara,Caroline Myss' Chakra Meditation Music was created specifically to support two daily chakra diagnosis sessions: an energizing morning meditation and a calming evening meditation. Learn with the help of an easy-to-follow study guide (included)—or simply listen to the extraordinary music on its own to experience its beneficial effects. With ethnic percussion instruments and drums, woodwinds, stringed instruments, voice, and bells.


---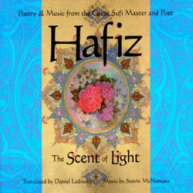 "Persia's Greatest Mystic Poet in a Stirring New Performance.
In modern day Persia, the 14th-century poet Hafiz remains the most treasured voice of his homeland - a place where his work outsells Rumi, and even the Koran. Yet only recently have Westerners come to know this wild Sufi mystic's astonishing verses on love and spiritual longing. Now, with Hafiz: The Scent of Light, you will join Daniel Ladinsky - the acclaimed translator of The Gift - to reveal in more than 30 of Hafiz' most stirring works. Offered here in the manner that Hafiz composed them, spoken or sung spontaneously amid companions and inspired music, each of these exquisite love songs (ghazals) shimmers with a nuance, depth, and apssion rarely captured in previous translations.
Hafiz once said: "A poet is someone who can pour light into a cup, then raise it to nourish your beautiful parched holy mouth." From his vision of an all-embracing Beloved who sees beyond our religous beliefs to his revelations on the oneness of worldly ecstasy and spiritual awakening. Hafiz continues to pour the light of his poetry fourth today.
Music composed and performed by Stevin McNamara (sitar and nylon string quitar), with special guest artist/composers Steve Gorn (bansuri flute), Jeffrey Rodgers (tabla, santoor, ethnic drums, percussion), Annette Cantor (vocals), Pandit S.N. Sopori (drupad/khyal/tarana singing), Bhushan Sopori (tabla), and Aurelia Roze (violin), Read by Nataraja Kallio."
---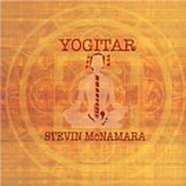 "What you hear is what you get, and what you get is the love and gentle spirit of an extraordinary artist, Stevin McNamara. The vibrations of Stevin's music are filled with the healing essence of his personal character. I am honored and thrilled to have played this small role in this enormously large talent. Join me in the meditative yoga of Stevin's musical ritual and daily practice." --Dik Darnell, Executive Producer.

Yogitar (CD only ) is also available for purchase through this website for 9.99 plus shipping and can be purchased securely by clicking on the
Paypal "Add to Cart" button below : Your CD will be personally signed to you by Stevin
---
Compilations that feature tracks by Stevin McNamara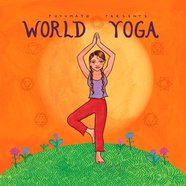 Putumayo presents : WORLD YOGA
Featuring the Track "Moon Magic (Chandra)

Yoga is global. Throughout the world, people of all ages and backgrounds are practicing yoga to relax and rejuvenate and musicians are creating music to accompany it. This planet-wide interest in the age-old Indian practice inspired World Yoga.

Drawing on contemplative sounds from Wales to Tibet and Armenia to Uganda, this collection leads listeners to deeper relaxation and connection with life. With an engaging balance of more traditional yoga sounds mantra-based pieces with Indian elements and unexpected acoustic gems from Africa and beyond, World Yoga reflects the practice s planetary impact and grace.
The diversity of World Yoga reflects yoga s ability to transcend borders and cultural barriers, to move people of different backgrounds. The music promises to turn a daily commute or next round of yoga practice into a meditative yet energizing experience.

---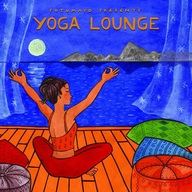 Putumayo presents : YOGA LOUNGE
A transportive musical journey weaving together world instruments, light electronica, ambient grooves, and enchanting mantras to soothe body and spirit.
---